EVENTS
Polessky State University

in Webometrics
According to the latest Webometrics published January, 2018 Polessky State University ranked 10th among 58 universities in Belarus.
Webometrics Ranking Web of World Universities ranked among the world's top ratings, assessing the activities of 25000 universities around the world, where Polessky State University takes 5670 place in world ranking.
Webometrics Ranking allows you to indirectly evaluate the research achievements of universities through comparison of their Internet sites.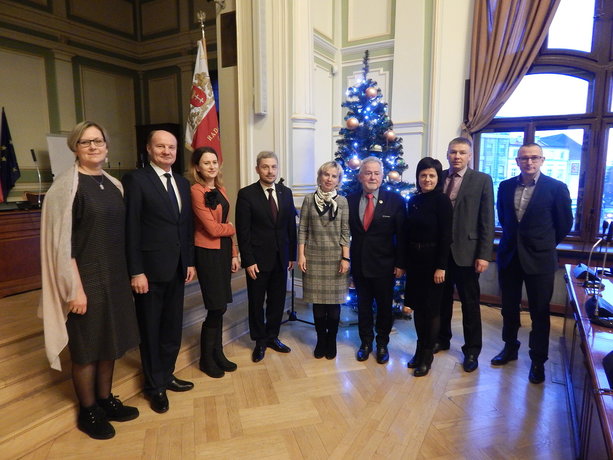 From December, 18 to December, 21, 2017 the administration of Polessky State University headed by the rector, Professor Konstantin K. Shebeko, paid a working visit to Gdansk (Poland). This visit took place within the framework of the EU project "STI International Cooperation Network for EaP Countries Plus" (EaP PLUS) aimed at promotion of cooperation between scientists from the Eastern Partnership (EaP) countries and the European Union (EU) and the expansion of their joint participation in the EU Framework Programme for Research and Innovation "Horizon 2020".
 

Students of  Economic Faculty took part in the 10th Republic seminar on regional studies "To open Germany".This year it was held with a support of Belarussian Trade and Economics University of Consumer Cooperatives and the F. Skorina Gomel State University together with DAAD Information Bureau in Minsk. Within the framework of  seminar, the participants were offered thematic reports of the current trends in the social, cultural and economic life in Germany.
 

University Profi Camp was organized for high school students from Luninets and Gantsevichi by Polessky State University in its lecture rooms and laboratories. It was being held from October 30 to November 3.
 

On November 2-3, 2017, the delegation from Polessky State University took part in the KEF-2017, the fifth conference in the framework of  October Economic Forum (Kastrychnitski ecanamichny forum), which was held in Minsk. The theme of this year's forum was the basics of the future, which are being laid todya.
 

November 17, 2017 lecturers and Turkmen students of Polessky State University took part in  Republican art festival of foreign students of higher educational institutions "F-ART.by" the grand opening of which was held in the National Library of Belarus.
 
An International interdisciplinary scientific and practical on-line conference "Aesthetic health of men" (CHITA-PINSK-DONETSK-LUHANSK-DARKHAN) was held in November 3, 2017. The conference was devoted to Men's World Day.